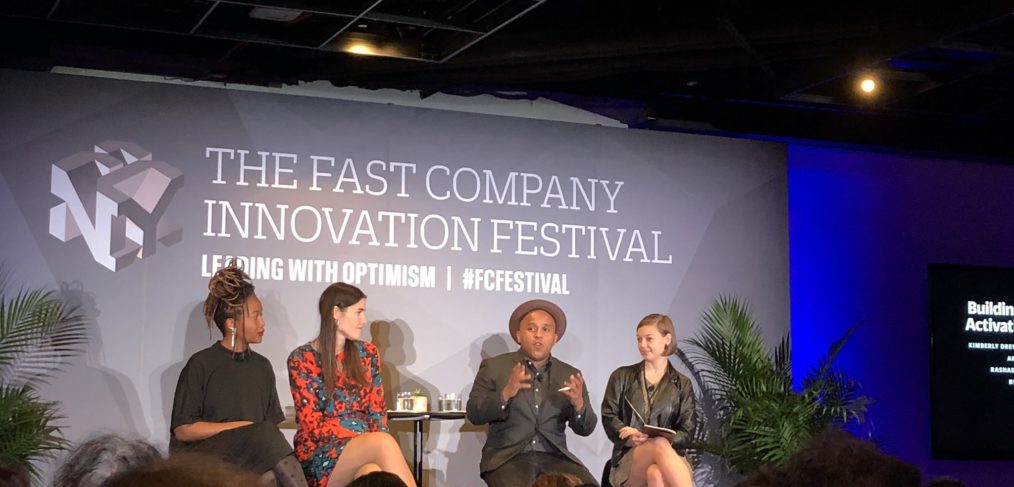 6 Lessons on Communications & Innovation
Innovation touches all fields, from food to communications to the arts. That's what inspired me about the Fast Company Innovation Festival. The event was an opportunity to look at how technology, trends, and communities would come together to impact the next 5 years, and it was a good book-end to my 2017 event season, in which I was on the host committee of Innovation Congress. The lessons that I drew came from a wide variety of thought leaders, from industries ranging from museums to beauty to technology.
Lessons for 2018 from Speakers Across Industries at Fast Company Innovation Festival #FCFestival
Do More than Stand for What's Important
In 2018, customers will be looking for brands to stand for something, but also to do something about it. It won't be good enough to say you care; your actions must be congruous and demonstrate true intent to make change in the world. Civil rights leader Rashad Robinson put it succinctly:
How to build brands that matter? Do more than say you care about an issue. - @rashadrobinson
Click To Tweet
Entrepreneur and founder of Beauty Counter Gregg Renfrew put emphasis on how her company creates safe products that still offer high performance for her customers. She talked about how doing so could actually act as a differentiator, allowing them to own a specific market position.
Doing well and doing good aren't mutually exclusive. You can and should take care of your customers' wellbeing. - @GreggRenfrew
Click To Tweet
Engage, Speak, and Open Up
Kimberly Drew, social media manager for the Metropolitan Museum in New York City shared her thoughts on how social media allows for more opportunities to engage in important conversations. For brands, it's important to recognize that these conversations are happening and to be aware of how to engage appropriately and respectfully.
Social media allows us, in many ways, to tell the truth. - @museummammy That truth is then picked up and amplified; that visibility CAN effect change by heightening awareness.
Click To Tweet
Don't focus on jargon and processes. Focus on speaking intentionally and with purpose with people. That was the lesson from Fred Dust of IDEO. Finding ways to have meaningful conversation is absolutely key to improving our ability to communicate.
We've created systems for dialogue (Six Sigma, agile) that streamline conversation, but actually close us off. - @f_dust (@ideo)
Click To Tweet
Recognize the Pros (and Cons) of Technology
At the same time, using technology that allows people to find information easily and help themselves—especially when that technology is easy to use and easy to implement—can be a huge opportunity to improve people's satisfaction with brands. One way to do that is through chatbots in messenger apps, according to Vivian Rosenthal, founder of Snaps.
What benefits and opportunities do bots in messenger apps offer? They're seamless and lightweight says @vivianrosenthal, founder of Snaps.
Click To Tweet
We also have to keep in mind that people won't come until we build it. Our relationship with technology isn't just about novelties, but about true utility. Founder of VResh, Roland Emmerich discussed this by pointing out that there's no value in VR for the average person currently—until there is, there won't be mass adoption.
We won't entice more people to use #VR until there are more use cases as triggers. - @rolandemmerich
Click To Tweet
---
2017 has been a truly memorable year in events for me and the Media Volery team. I'm sure we'll be attending many more in 2018, and I hope that you'll continue to follow along with us here on the blog.
Attending an event? Holler at me and let me know. Let's get together. You can always get in touch at hello@mediavolery.com.